Because of complication in production technology, computer and its accessories are one of those products that Iran is unable to produce it. Therefore, they are entirely imported from overseas both legally and illegally.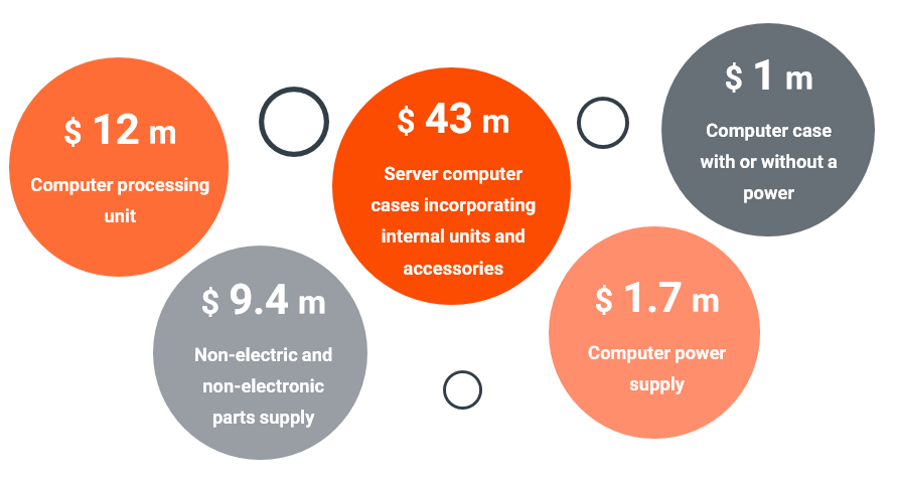 Growing number of people who use the computer for business or entertainment signifies the extended and developing market of this product in Iran.
While individuals prefer portable computers like laptops, companies and governmental organizations are the primary consumers of PCs. However, the two groups have decreased their demand for these products as a result of the economic depression in recent years.
Demand also is affected by price, and that is why rather cheap Chinese brands could penetrate in in the market. Besides, because contraband products are lower in price than those legally imported, they could get about 40% of the market.
This 80-million market with no local producer is attractive enough to be considered the next stop for those providers of computer, computer parts, and accessories who seek for new markets to enter. However, any new comer should be aware of the sensitivity of Iranian consumers to price and quality of course.
Purchase Report
If you need more information in this industry we can provide you with a report including the following sections:
Country Overview
Market Highlights
Market Influencers (including market drivers and trends)
Supply Chain (company profile and product portfolio of key players)
SWOT Analysis (strengthens, weaknesses, opportunities, and threats)
Future Projection
Conclusion
This report gives you a general overview of the industry and the list of top producers and distributors in the market. It provides a deep understanding the significant market shortages and the best opportunities in this industry. Besides, the report will inform you about the key influencers in the market, current trends, and future outlook.
Purchase Industry's Key Players Directory
If you only need the contact details of Iranian companies active in your industry, you can purchase our industry-specific directory. The directory includes:
List of 20-300 Companies, based on the industry
Company Name
Company Address
Contact Person
Telephone
Email
Website, if any
This list enables you to directly get in touch with potential Iranian buyers/partners and kick-start your negotiations in Iran. Before we send the directory to you, we contact these companies and check the contact information of every single company on the directory and make sure we provide fresh and accurate data to you.
However, if you need more specific insights about your market or looking for information about particular products, you may ask us to prepare a tailored research just for your product. If that is the case, just click here.